Surprise..... A Peaceful Rally
As I said, today was spent at a rally that was full of controversy for the Jewish community. They went nuts over a similar one in
Berkeley
. Why don't the Jewish groups worry about adopting a position that's advocated by of all groups CAIR?! The Jewish Federation turned down a chance to participate, which upset me. I wasn't surprised the likes of the Progressive Jewish Alliance (PJA) and Peace Now declined. Please. But the Federation?! Adding insult, The Jewish Journal wrote a rather negative
article
about it this past week. I don't get it. But unlike Berkeley, this one was rather calm and without any protesters.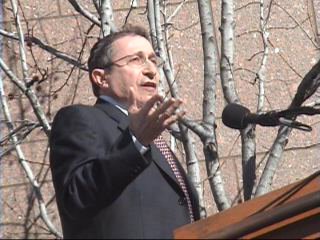 Marvin Hier from the Simon Wiesenthal Center/Museum of Tolerance gave a very moving speech.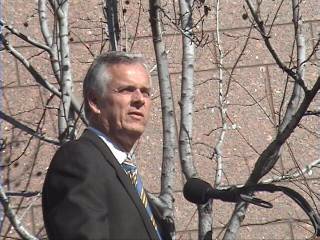 LA Mayor Jim Hahn also gave a speech, showing his support against terror. He drew a tiny comparison to the guy who attempted suicide on the LA metro system but who changed his mind (yet neglected to back his stupid SUV off the tracks!). He said the big difference of course was that this bozo didn't have people encouraging him to do it, how it's a mind set we are fighting. Sad but true.
There were many other moving speeches, including Nonie Darwish, who is the woman behind
Arabs for Israel
. Fascinating story, fascinating woman. Another was a journalist whose brother was killed on this very bus. It was rather surreal for her and for her son, because I got the impression they didn't realize it was
that
bus until they got there. All in all, a very moving experience. I highly recommend attending if you ever get the chance.