Needing Something to Read?
Must-Read Articles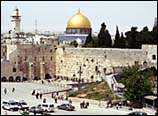 Relations between Arabs and Jews
By Sarah Elshazly
Israeli Arabs have always yearned to be with other Arabs. The language, culture and just being with other Arabs was enough to get a tear in our eyes. It took me a total of 10 minutes to see what I was, or wasn't missing. When I came to the US and started meeting Arabs from the Arab world I was so taken aback.
Read the whole article on the wonderful
Arabs for Israel
Web site.
Sundance and Israeli films/ The Jerusalem Post
The Sundance Channel, a US cable network with more than 20 million subscribers, has acquired broadcast rights to 16 Israeli documentaries, which it will be showing during the coming year. Read the whole article
here
.
Must-Read Book
The Third Terrorist: The Middle East Connection to the Oklahoma City Bombing
-- by Jayna Davis
(editorial review from Amazon.com) Timothy McVeigh and Terry Nichols were not the lone conspirators in the Oklahoma City bombing—the attack that killed nearly 170 people in a few short seconds. They were part of a greater scheme, one which involved Islamic terrorists and at least one provable link to Iraq. This book, written by the relentless reporter who first broke the story of the Mideast connection, is filled with new revelations about the case and explains in full detail the complete, and so far untold, story behind the failed investigation—why the FBI closed the door, what further evidence exists to prove the Iraqi connection, why it has been ignored, and what makes it more relevant now than ever. Told with a gripping narrative style and rock-solid investigative journalism and vetted by men such as former CIA director James Woolsey, Davis's piercing account is the first book to set the record straight about what really happened April 19, 1995.